Infonetics Research Research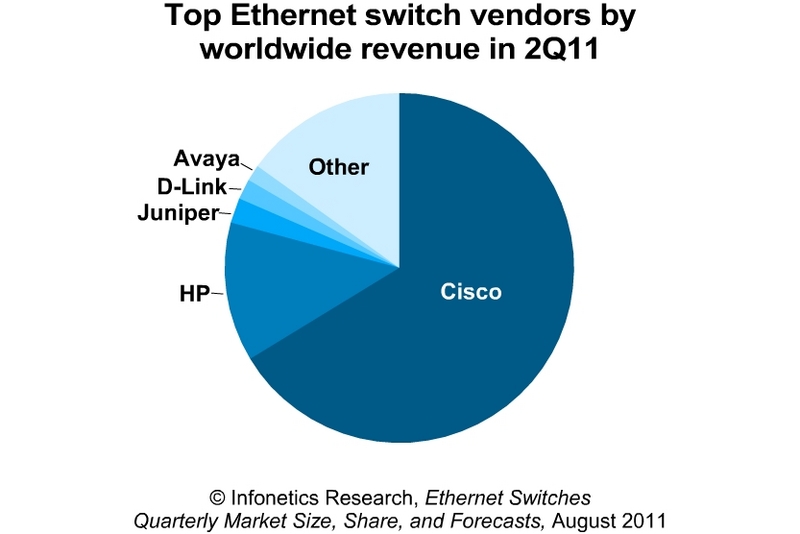 BOSTON, MA–(Marketwire – Sep 21, 2011) – Market research firm Infonetics Research today released excerpts from its second quarter 2011 (2Q11) Ethernet Switches and Enterprise Routersmarket share reports.
"Ethernet switch buyers are in the driver's seat right now, as vendors are fiercely competing for their business. While the battle is mostly playing out between Cisco and HP, other vendors are caught in the crossfire, with declining ASPs being one side effect. In the switch market, we expect this to result in stagnating revenue despite robust demand in 2011," advises Matthias Machowinski, directing analyst for enterprise networks and video at Infonetics Research.
ETHERNET SWITCH MARKET HIGHLIGHTS
Ethernet switch sales rebounded in 2Q11 from 1Q11, up 6% to $4.4 billion worldwide, but continue their year-over-year slide (down 3% from 2Q10)
Meanwhile, Ethernet switch port shipments are up both sequentially (+8%) and year-over-year (+11%) in 2Q11, reflecting ASP declines due to heavy competition
The 10G segment grew the most, up 19% quarter-over-quarter and 58% year-over-year
Market leaders Cisco and HP had steady revenue market share from 1Q11 to 2Q11, but Cisco's share is down more than 3 points from a year ago, while HP is up by over 2 points
Juniper, Enterasys, and Extreme outpaced the overall Ethernet switch market with double-digit revenue growth and small gains in revenue share this quarter
Ethernet switch port shipments are up in all major world regions year-over-year, indicating widespread demand for networking products
ENTERPRISE ROUTER MARKET HIGHLIGHTS
Enterprise router sales grew 6% sequentially in 2Q11, to $843 million worldwide; unit shipments grew 11%
North America was the top performer in the enterprise router market in 2Q11, lifted by the retail vertical
High-end routers continue to be a bright spot as buyers invest in the network core to deal with rising traffic
Meanwhile, growth in branch routing continues to lag due to a lack of significant business expansion
Vendors with sequential increases in global enterprise router revenue in 2Q11 include Cisco(up 3%), HP (up 26%), Juniper (up 14%), and OneAccess (up 40%)